Expert Tankless Water Heater Installation and Repair in San Fernando Valley
Burpee's Plumbing and Rooter is Your Certified Tankless Water Heater Provider in San Fernando Valley and Greater Los Angeles Area.
When you hire Burpee's Plumbing and Rooter, we promise to deliver to you only the best brands and warranties to ensure that your installation is protected and your home is never without hot water.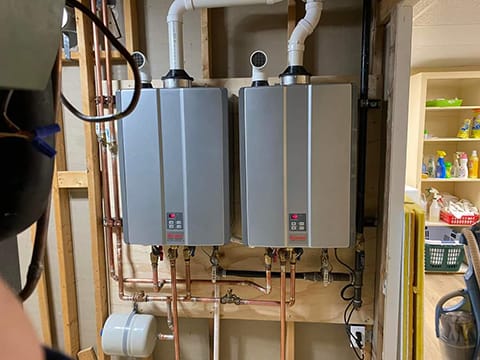 Our plumbers are certified in tankless technology and best practices. In this extensive course, the trainees are taught how to troubleshoot, maintain, install, repair, and replace all components of tankless water heaters.
Reasons to Install a State-of-the-Art Tankless Hot Water Heater
Endless Hot Water
Space Saving Unit
Energy Efficient=Saving money
Avoid Floods Due to Tankless Design
Endless Hot Water
This is made possible by only heating water that is in demand. The tankless unit does not need to heat a whole tank, it will only heat the water that is being used. The heat exchanger will heat the copper/stainless steel pipes as the water passes through, sending out an endless supply of hot water for all your hot water needs.
Do you have questions or concerns about tankless water heaters? Give the certified tankless experts at Burpee's Plumbing and Rooter a call today! We will gladly give you a free estimate and take the time to train you on all the benefits and advantages of having a tankless system in your home.
Do you have a tankless System that needs repair?
Here are some warning signs to look out for:
A blinking error code
No Hot water
Leaking
Blank Screen
When a repair is needed, you can trust us to the job right because the plumbers at Burpee's Plumbing are real plumbers.
Repair or Change?
When customers have trouble with their tankless water heater, the initial concern is how much it will cost to get it fixed. Replacing a Tankless is uncommon especially if it is still under warranty. Usually a trained and certified technician can repair and troubleshoot and repair the unit with minimal time spent without hot water in your home.
Tankless Hot Water Heaters are all the Rave! Here is Why.
Tankless hot water heaters have become more and more popular. With so many advantages we can see why. These modern units are space savers, energy savers and provide endless hot water.
Energy Efficient– Since tankless hot water heaters only heat water that is being made use of, it can significantly lower your energy bill. While they do not supply instant hot water, they warm as needed for as long as you desire.
NO Flooding Risk– Tankless hot water heaters do not keep water in a large tank like standard systems. Meaning peace of mind for you and your family since there is virtually no flooding risk. Another plus of not having an unsightly and bulky water tank is that there is no leaking due to corrosion of the tank caused by sediment that damaged the structure of the tank over time.
Unlimited Hot Water– If you have a huge family or need endless hot water, tankless hot water heaters are the system for you. With your state-of-the-art tankless system, you will never lack hot water in your home.
Extended Warranties– Tankless hot water heater service warranties are far better than conventional systems. They begin with a minimum of 10 years of warranty coverage and individual components are quickly repaired or replaced.
How to Get the Most Out of Your Tankless System
Yearly Tankless Water Heater Flush
This is performed by one of our plumbing technicians. It is a quick and sure way to keep your tankless system in tip top shape and running smoothly. A tech will connect a hose to the pipes of your tankless water heater and then proceed to flush the system applying a solution to the water that will be pushed through. This solution will break down any scaling that may build up in the heat exchange and within the pipes. We are sure that you will be impressed with our knowledgeable staff when you call Burpee's Plumbing and Rooter to do maintenance, repair or installation of a tankless water heater system.